Profile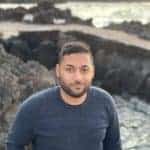 Wasseem Emam
About Me:

I am an Egyptian-Canadian researcher in Glasgow. I am a father of one and enjoy diving, cycling, watching football and travelling.

My Work:

I'm an aquatic ecologist working on advancing the welfare of aquatic animals used in the food sector (fisheries & aquaculture). I run a research organisation called Ethical Seafood Research that carries out research and training projects in Africa showing fish farmers the benefits of looking after their fish.

My Typical Day:

My days mostly consist of meetings with colleagues, networking externally to look for additional project funding and writing up reports for the funders to show the progress we have made. When I am in the field, I am visiting fish farmers and fishing communities to hear about their current challenges. I also frequently attend conferences and workshops around the topic of aquatic animal welfare in fisheries and aquaculture.

What I'd do with the prize money:

I would use the money to hold events aimed at recruiting more scientists to such initiatives!

My CV

Education:

I grew up in the Middle East (between Egypt and Saudi Arabia) where I went to British international schools before moving to the north of England to complete high school at a Quaker boarding school. I then moved to Canada for university where I studied Environmental Science and International Development at the University of Toronto. I moved back to Europe for a Master's in Applied Ecology and Conservation where I focused on aquatic ecosystems.

After working at the UN and other international organisations for some years, I moved to Scotland to do a PhD in fish ecophysiology and aquaculture.

Current Job:

Founder & Lead Researcher @ Ethical Seafood Research

Employer:

Ethical Seafood Research

Institute of Aquaculture, University of Stirling

My Interview

How would you describe yourself in 3 words?

fish lover and advocate

What did you want to be after you left school?

A biologist

Were you ever in trouble at school?

All the time!

If you weren't doing this job, what would you choose instead?

I would do something related to languages and linguistics

Who is your favourite singer or band?

Passenger

What's your favourite food?

Sushi

If you had 3 wishes for yourself what would they be? - be honest!

Finding inner peace, being there for my family & being a positive force for change in the world

Tell us a joke.

Why don't fish play piano? Because you can't tuna fish!
---
---