Profile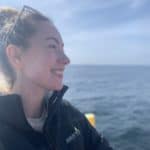 Camilla Cassidy
So excited to answer your questions and chat to you guys soon!
About Me:

Hi, I'm Camilla! I live with my fiancée in a little village near Portsmouth. I spent 8 years as a marine biologist, getting muddy to learn about how climate change affects animals on the seabed. Now I work as an analyst looking at air traffic data, and in my spare time I like to do creative writing, craft activities, and go on long walks by the river. Generally, I just love numbers, what they can do, and finding ways to talk to other people about them!

Read more

The skills of statistics and communication that I use in my job I gained during my time at university. I studied at the University of Southampton, where I did an 'integrated masters' (a four year degree) in Marine Biology. During my studies I travelled to Malaysia as well as the Galapagos, but what I really found interesting weren't whales or dolphins but instead worms, snails and mud! This is what I then studied for another four years as a PhD student.

The 'marine benthos' is the word for the mud at the bottom of the ocean, and I was a 'benthic ecologist', which means I was interested in the food webs and chemical processes that take place in the mud as a habitat. The sea bed is really important. People say that the Earth is 70% water – well, underneath all that water is the mud of the seabed, so really the Earth is 70% mud! I went all around the UK collecting mud as well as the creepy crawlies that live in it. This was always really messy and very funny! We got to wear big green outfits and would come back looking and smelling disgusting! I would sieve that mud in a giant sink to make sure it had nothing nasty in it. I then would split it into lots of different tanks, that I would keep with different animals in, and keep them under different temperatures and concentrations of carbon dioxide (CO2). My experiments were all about trying to learn how different animals would change their behaviour if their environment changed. This will help us understand how to study environments that are changing because of climate change, and how we should be measuring and looking after them.

I really like doing craft activities like sewing, painting and knitting. I think these can be really interesting ways to get people to think about science topics in ways they haven't before, so I like to make science a focus of my craft works. Here are some things I've made – magnets painted with famous fossils, an iron-on patch I designed for the 'mission' by the famous space dog Laika, a scarf I knitted that shows the average temperature of planet Earth year or year, and a coaster beaded with the Northern Hemisphere night sky as it was on the day I finished my PhD.

My pronouns are:

She/her. 🏳️‍🌈

My Work:

I figured out why worms and snails in the mud at the bottom of the sea act differently during climate change, and why that matters!

Read more

After my PhD – four years where you study a topic and earn the title of 'Doctor' –  I decided I really liked answering questions and solving problems using numbers. I am now a data analysts at NATS. NATS (which used to stand for 'National Air Traffic Services', but nowadays only stands for NATS) is the UK's leading provider of air traffic control. We supply the air traffic controllers in the towers that help planes take off and land at several UK airports, but we also provide the 'en route' navigation for any aircraft that flies through UK airspace. Even if your flight is going from France to Canada, you will fly over the UK, and air traffic controllers based out of Swanwick (near Southampton) or Prestwick (near Glasgow) will be talking to the pilot of your plane to help you get through the skies safely and efficiently. You can learn more about NATS here, or watch a video on a short history of NATS' air traffic control here.

Every action an air traffic controller takes when talking to a plane, as well as everywhere the plane goes, as well as how much noise it makes or its environmental impact, are all recorded. This is a lot of information that my team in the Analytics department use to consider how we can make the ways that we control and manage the airspace even safer. For example, I work a lot with the 'project benefit forecasting' team. Sometimes there will be new innovations (new technology for air traffic controllers to use) or changes to the airspace (a recommendation that planes fly a different route). I work with controllers to assess the potential impacts of the change (e.g. "Oh, with this new control panel it will only take me 2 seconds to give someone an instruction rather than 5") and I then use machine learning methods on all the data we have about the normal ways that planes fly day-to-day to recommend how big a potential benefit the change will have, in terms of improving safety, or how likely planes are to be delayed, or whether they are now able to fly in a more environmentally friendly way.

NATS is all about looking forwards, at new opportunities – from helping people fly again after COVID-19, to environmental improvements, to looking at how we will use new drone technologies – and my role in Analytics helps people across NATS get answers to any questions or curiosities that could help us push forward.

All of the skills I learned in marine biology I use in my job at NATS; how to think about big questions, how to interpret numbers and graphs to figure out what is going on, and how to explain to people what is going on.

My Typical Day:

As a PhD student I had an office in the National Oceanography Centre in Southampton, which I shared with five other students. Every day morning I checked on my experiments, which were big fish tanks; I had to make sure they had food and they were the right temperature. Once a week I would get very wet changing the water in them, like you do with a fish tank at home! After that I would work to figure out the patterns in my results – what tanks had animals that were happier than others, and why? I would have to read the work of other scientists to understand what was going on, and work to write my results up so that people could understand mine too. I would try to go home by 5pm so that I had time to focus on my hobbies and and play with my cat!

Read more

Now I have finished my PhD and I work for a company called NATS, where I do the same sort of work that I did as a marine biologist but on different numbers. All my days look at little bit different, because I work with lots of different people on lots of different problems.

I often work on helping people in other parts of my company understand what is going on in something they are seeing. To answer their questions, I will have to find the right information, do some maths or show it on graphs in different ways to see the patterns, and then present it back to them.

For example, an air traffic controller at at imaginary Pink Airport could come to the Analytics team and say, "I can't prove it, but I think that every plane that arrives to us from Blue Airport is always late, and it really messes up our day". Our job would then be to think how we could answer this – we could look at radar data and maps to see where planes went (maybe the route from Blue Airport to Pink Airport is inefficient), or maybe we could look at the air traffic controllers who are working at the times that the Blue Airport planes are arriving (maybe those arrivals only happen when things are busy and planes are more likely to be delayed anyway, so it is not a problem with Blue Airport but instead the time of day that the Blue Airport planes are flying). There's lots of different things that could be the cause of this problem, and it is my job to help track down what is happening and why.

Being a data analyst in any company is all about being curious, asking questions, and treating every day like a puzzle! This is just like any other scientist, and is exactly the sort of skills I learned as a marine biologist.

What I'd do with the prize money:

Science, technology and maths matter most when people care about it, and can understand and connect to these topics. Art, crafts and creativity are such important tools for getting people interested and emotionally involved in STEM. I would use the £500 to set up an online gallery, where students as well as science professionals can submit their examples of STEM-related art, crafts or creativity, and a digital newsletter that could highlight competitions and opportunities. Any ability would be welcome – from crayon and pencil doodles, to poems, to playlists. Any way that we can help people connect with and share STEM gets more people involved and caring about our world!

My CV

Education:

Royal Latin Grammar School, Buckingham (aged 11-18)

University of Southampton, Southampton (MSci Marine Biology, aged 18-21)

University of Southampton, Southampton (PhD Marine Ecology, aged 21-25)

Qualifications:

GCSEs: They were a long time ago but I think I got five A*'s, four As, one B and one C!

A-Levels: English Literature (A*), Biology (A*), Chemistry (A). I studied Biology and Chemistry because I knew I wanted to go into a science subject, but I chose English just because I loved it! It taught me a lot about how to build evidence and argue a point of view, which is really important in science. I liked that I got to have an 'opinion' in English lessons, rather than just facts being right or wrong. I also took Physics (A) for one year only. I really loved Physics, especially Space and Particle physics, but unfortunately though I like statistics I am not very good at maths and mechanics on a calculator, and it wasn't my best subject!

I actually wanted to grow up to be a dentist, and did work experience at a local dentist's surgery. However, my chemistry teacher did not think I would end up getting the A grade I needed to study dentistry. I decided I would rather pick a different, equally interesting sounding course and look forward to that, rather than risk being disappointed. I decided that there were lots of cool science subjects, and that marine biology was as cool as they come. There doesn't need to be a better reason to study something than that!

University: Marine Biology, at the University of Southampton (1st Class Honours). I studied an integrated masters, which is a four-year course that means you graduate with a Masters (MSci) rather than a Bachelors (BSc) degree. I studied subjects such as the physical biology, molecular structure, and evolution and adaptations of marine plants and animals, as well as how the oceans work, to understand why life in the ocean is how it is.

Finally, I have a PhD in Marine Ecology, also at the University of Southampton! I kept working with the supervisor and team that I met during my Masters, because I loved their area of research.

Work History:

When I was at school I had a part-time job on Saturdays working at the art supply shop in my hometown, and I also volunteered at a British Heart Foundation shop as part of my Duke of Edinburgh award.

Research Assistant at University of Southampton (May 2016 – Sept 2016). During the summer between finishing university but before my PhD, I was able to do work for the university using the skills I had developed during my final year project. My final year project involved CT (3D image) scanning aquariums full of mud and worms, to see the burrow structures that the worms built and to see what effect that has on the soil and soil chemistry. I had to learn a bunch of very specific 3D imaging computer programmes, and so I did work that summer on processing other people's scans to help their research.

Teaching Assistant at University of Southampton (Sept 2017 – January 2020). As a postgraduate student you can help teach on university modules. I helped in classrooms on modules about learning a programming language called R.

Analyst at NATS (Analytics department) (March 2020 – Sept 2022). NATS has been my first job out of university; it may seen like a strange jump to move from marine biology to planes, but the skills I use are very similar, and it is a really rewarding job to be in.

Senior Analyst at NATS (Analytics department) (Sept 2022 – Now). After two years in the role I joined in, I applied for a promotion. Being at this higher grade means I am responsible for planning and managing work, not just carrying it out, and am involved with the recruitment of new joiners to the department as well as line managing.

Current Job:

Employer:

My Interview

How would you describe yourself in 3 words?

Muddy airspace analyst

What did you want to be after you left school?

A dentist

Were you ever in trouble at school?

I've always been someone who followed the rules, but one time the school librarian chucked me out of the library because I opened a Terry's Chocolate Orange by smashing it against a table during quiet reading time!

If you weren't doing this job, what would you choose instead?

If I weren't doing this job, I'd like something really different that would get me active outside, like a postman or dog walker

Who is your favourite singer or band?

ABBA

What's your favourite food?

I am embarrassed to say it, but I will eat nice ham out of the fridge with my bare hands

If you had 3 wishes for yourself what would they be? - be honest!

To be happy, to be loved, and to have a garden big enough to keep pet chickens

Tell us a joke.

Where do the police take evil pudding? Into custardy!
---
---