Profile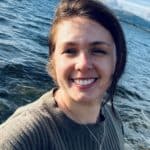 Ambre Chapuis
About Me:

I am a French scientist who moved to Scotland 10 years ago!  I live now in Edinburgh with my partner and our gorgeous rescue dog, Bella. I am an ex-rugby player and now a fervent supporter. I enjoy hiking and when the weather is too grim playing D&D with friends or online.

Read more

I always had a very curious attitude and love for animals so science was a very easy choice of career for me. I also knew I wanted to travel around the world so speaking English was obvious. However, before I moved to Scotland my English was terrible. I am now fluent and Scotland was an easy choice as I love the wildness and green landscape of the country.  I always enjoyed being outside and going for long hikes with my doggy. On rainy days I play PS5 or do some crafts to occupy the mind and the hands and relax.

My Work:

I worked in very different fields, from microbiome study, to making glowing fungi, to making mini organs in petri-dish of cows and sheep to now working on the immunology of shellfish.

Read more

During my PhD I am trying to make a fungi that is capable of glowing independently. why? With this new fungi, we could use it to understand how the fungi infect a body by using microscopy. With the help of microscopy technique, we could reduce the number of animals tested. And have a better understanding of what is happening with the fungi.

During my first postdoc, I was working on a bacteria that affects the gut of cows and sheep. To reduce animal experiments I worked on replicating the organ (intestine) of the cow and sheep in vitro (in the lab). with these miniature organs on a plate, we can do more infection models and better understand how the cells work.

I am now working on replicating all the techniques that I learned with mussels and oysters. We are trying to understand how mussels resist all the bacteria and viruses in the water.

My Typical Day:

I wake up early to walk my dog with a coffee in my hand. Drive outside of Edinburgh in the Pentland to go to work. Some days I will mostly be on the computer responding to emails or writing, but most of the time I will be in the lab carrying out diverse experiments. Once done and satisfied with my work I go home and go for another walk with my dog before relaxing by doing manual activities, gym, or playing video games. After dinner, we watch anime before going to sleep.

Read more

I am what we call a "wet" lab scientist, meaning that I spend most of my time in the lab testing different hypotheses. I also sometimes go to the fields to collect wild mussels and bivalves for experiments. Some experiments take days or hours so while I am waiting, I will have a meeting with my boss to talk about the different projects, the progress, and the future experiment. As scientists, we also go to a lot of talks and conferences to keep ourselves informed of the progress made in the scientific community. We also sometimes present our data to colleagues and others at conferences in times to times other countries. To stay informed of the progress made we also read a lot of scientific articles as well as write them to get them published in scientific journals (part of the job I am not a fan of).

My CV

Education:

I went to school in the middle of nowhere in the French countryside.

2010-2011: BCPST- Prep' School of Veterinary Competitive Exam Marmilhat High School, Lempdes, FR

2011-2013: DUT Biology and Biochemistry AnalysisUniversité d'Auvergne, Clermont-Ferrand, FR. Equivalent to 2nd Year of BSc in the United Kingdom.

2013-2015: BSc (Hons) Biosciences and Biomedical Sciences, (2.1)
Robert Gordon University, Aberdeen, UK.

2015-2016: MSc in Microbiology and Immunology with commendation,
University of Aberdeen, Aberdeen, UK.

2016-2020: PhD Microbiology within Aberdeen Fungal group,
University of Aberdeen, Aberdeen, UK

Qualifications:

BSc(hons) in molecular biology

MSc in microbiology

PhD in Mycology

Work History:

I did a lot of small part-time jobs while studying to pay for my education from waitressing, making burgers and selling shoes.

After my PhD, I joined the Moredun Research Institute as a post-doctoral scientist and started my career as a scientist in veterinary science.

Current Job:

Core scientist at the Roslin Institute in aquaculture more specifically shellfish immunology.

A core scientist is a post-doctoral researcher who works on more than one project and makes sure of the maintenance of the lab and helps supervise students.

Employer:

the Roslin Institute, University of Edinburgh

My Interview

How would you describe yourself in 3 words?

Resilient, passionate, Nerdy

What did you want to be after you left school?

I wanted to become a vet before discovering research

Were you ever in trouble at school?

No, I was kind of a rugby playing nerd

If you weren't doing this job, what would you choose instead?

I will probably continue my study to become a vet

Who is your favourite singer or band?

Sabaton ( metal group)

What's your favourite food?

Cheese and bread (I stay with my french stereotype)

If you had 3 wishes for yourself what would they be? - be honest!

1. Speak to animals 2. I could play all instruments 3. live in a isolate cottage full of animals

Tell us a joke.

I was reading a book on helium. I couldn't put it down.
---
---