Profile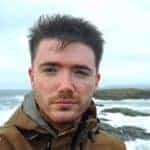 Jack Whittle
About Me:

I live in Bolton at the moment with family and I work as a consultant marine scientist, I love snorkelling/diving and underwater photography! I'm hoping to go to Malta this year and see a moray eel 🙂

My Work:

I'm a consultant marine scientist, so I work on projects like offshore wind farms, port and harbour developments or undersea cables and research and investigate the potential environmental impacts. I've recently been researching if a proposed wind farm off the coast of the Shetland Islands will interfere with protected sites.

My Typical Day:

A typical day for me looks like this:

Arriving at my office, then I'll have a call with my colleagues to go over what everyone is working on and seeing who might need help and who might be available for help. Then, I'd move on to whatever project I'm working on and get going! This might involve some data analysis work, looking at trends in species abundances or it might be writing a report for a survey that we've done, talking about the water chemistry of an area and speaking to our labs team about anything they have found.

I might do some work on planning more surveys, seeing who would be available, what equipment will they need? How long will it take?



What I'd do with the prize money:

I would use the prize money to organise marine science days at my local community centre, Westhoughton Library, where students and anyone really local to the area could attend talks, presentations and take part in activities designed around educating people in marine science.

My CV

Education:

I attended westhoughton high school in Bolton, and then went on to Runshaw college, followed finally by four years at Bangor University in Wales.

Qualifications:

GCSEs – I got As in biology, chemistry and physics as well as English lit, English Language and Geography. I got a B in maths and a C in French.

A-levels – I got two Cs in biology and Geography and then a D in maths.

At University I woke up a bit, and got a first class masters degree in marine biology. The work of my thesis was recently published in a journal

Work History:

Before my current job I worked as an image analyst with the same company, where I looked through aerial photos and identified marine animals like seabirds, sharks and marine mammals for surveys of wind farms.

Employer:

My Interview

How would you describe yourself in 3 words?

Investigates marine activities

What did you want to be after you left school?

A marine biologist

Were you ever in trouble at school?

For being a bit sarcy, yes

If you weren't doing this job, what would you choose instead?

Professional photographer

Who is your favourite singer or band?

Seether

What's your favourite food?

Pie. Pie beats all.

If you had 3 wishes for yourself what would they be? - be honest!

My first wish would be to know exactly what I want, as that isn't always clear. The other two would depend on what the first shows

Tell us a joke.

BNAG. That's bang out of order.
---
---